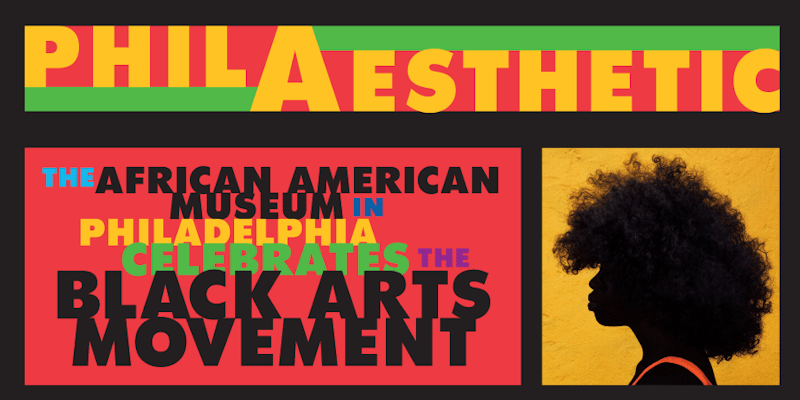 On Thursday, June 15, AAMP invites you to join us for the opening reception for PhilAesthetic: The African American Museum in Philadelphia Celebrates the Black Arts Movement.
Funded by PNC Arts Alive, curated by AAMP and presented during the summer of 2017, PhilAesthetic will be an unprecedented collaboration that celebrates the innovative artistic energy and uncompromising social values of Philadelphia's Black Arts Movement. And who can better to define Philadelphia's Black Aesthetic than four of the city's premiere cultural organizations, the African American Museum in Philadelphia, Philadanco, The Philadelphia Clef Club of Jazz and Performing Arts, and New Freedom Theatre.
Anchored by, PhilAesthetic: 40 Years of Collecting African American Art, a groundbreaking two-gallery exhibition at AAMP, this can't-miss celebration brings the undeniable energy of the Black Arts Movement to the fore once again. Highlights also include neighborhood pop-up exhibits at PhilAesthetic partner institutions, and a series of programs and family-oriented workshops with our community partners and collaborators.
Along with wine and light fare, opening reception guests will enjoy an exciting line-up performances by the Clef Club Ensemble, Ursula Rucker, and Kulu Mele. This reception is free and open to the public. So, don't wait—RSVP online today.
Learn more at
www.aampmuseum.org/philaesthetic
.
The African American Museum in Philadelphia
701 Arch Street
Philadelphia, PA 19106
Free; register
here