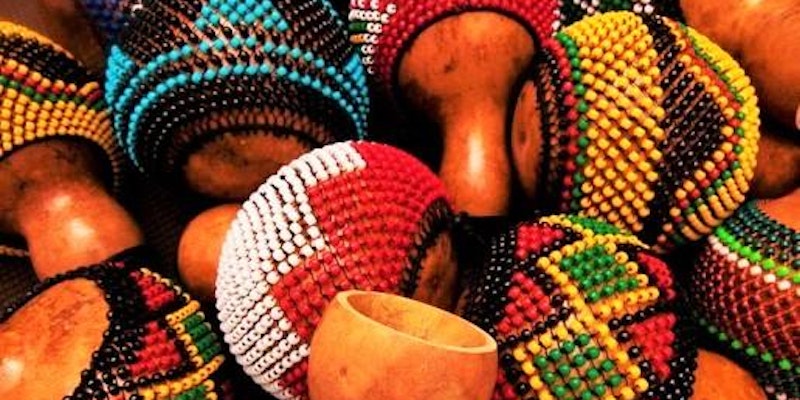 Shekere - Agogo: Foundations for Skilled Playing,
taught by Janet McDonald
Classes are for 4 consecutive Thursdays @ The University City Arts League
Address: 4226 Spruce Street, Phila., PA 19104
Time: 6:30-7:30 pm
Dates: 6/8, 6/15, 6/22, 6/29
Fee: $60
In this 4-week course, students will learn the fundamentals of playing the Shekere and Agogo bell, including:
a brief history and cultural significance of the instruments
proper technique and execution
how to construct a basic African polyrhythm
the art of ensemble playing
Students should bring their own instruments if they have them.
There will be insruments available for use during class, and possibly a few for sale, ranging from $70 to $100.
Walk-in fee is $20 per class. No new walk-ins will be permitted after the second class.
Space is limited. Please register early.
Janet McDonald
Organizer of SHEKERE ~ AGOGO: FOUNDATIONS FOR SKILLED PLAYING
Janet McDonald is a vocalist, percussionist, and teacher who is a native of Philadelphia, PA. She was affectionately called Mama Shekere by the children she taught at the Montessori Genesis II School in the Powelton section of the city. She began studying with the founder of the Women's Sekere* Ensemble, Iya Omomola Iyabunmi, in 1989 after seeing a performance by the group. One year later she was invited to join the Ensemble, and still remains with them today. She also performs with other Philadelphia cultural arts groups, including the acapella ensemble, Foundation, which she co-founded.
*Sekere - traditional Yoruba spelling
University City Arts League
4226 Spruce Street
Philadelphia, PA 19104
Reserve your space at Eventbrite
here